Introduction
In the Middle East, underground aquifer depletion is dramatically increasing due to contemporary global issues such as population growth and climate change, depleting national environmental resources and effecting water and food security.
The solution – Moistube™ assists in rectifying such issues by addressing the needs of the desert and arid lands. Moistube™ has proven higher water efficiency, advancing crop yield and increasing plant productivity, with limited maintenance, at a reduced cost.
Water saving of up to 75%
Reduction of evaporation and percolation losses
Watering 24hrs a day increases plant productivity
Pump elimination results in a reliable and long-lasting system
Significant reduction in maintenance time and costs
Ideal solution for remote desert areas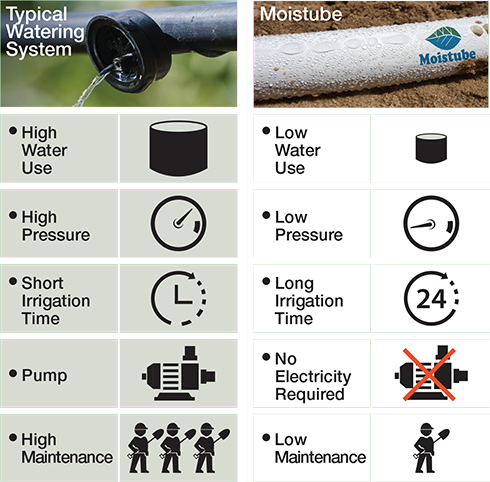 How does it work?
Moistube™ is a slow release, sub-surface irrigation system. It is based on a unique nano-technology which significantly reduces water use. The irrigation process reduces plant stress to a minimum via constant water release; 24 hours a day, 7 days a week. Plants irrigated with Moistube™ appear to be healthier and more appealing whilst water consumption is reduced by up to 75%
Moistube™ releases water through nano-holes at a rate determined by an applied pressure in the system. The method allows for easy water release adjustments, simply by changing the pressure in the network. Within soil, Moistube™ creates an even and constant underground wet zone, where plant roots have easy access to water and nutrients.
The nano-porous Moistube™ material utilises natural capillary processes. The process enables Moistube™ to release a sufficient amount of water for when the soil is dry and reduces once the soil is saturated.
Global Water Scarcity
Water scarcity is effecting every continent. Approximately 1.2 billion people (20% of the world's population) live in areas of physical scarcity with 500 million people approaching such a classification. A further 1.6 billion people (approximately 25% of the world's population) face economic water shortage.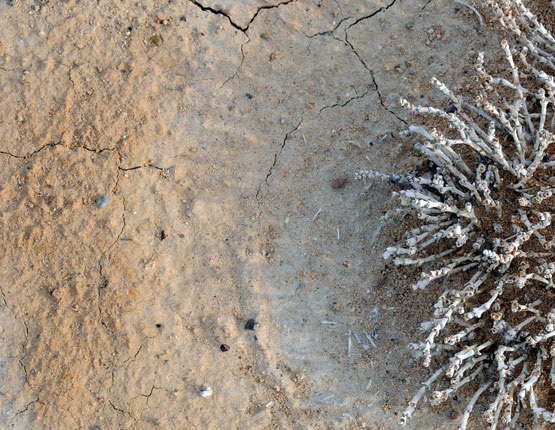 Water Scarcity in the UAE:
In 2012, the annual total demand for water in the Emirate of Abu Dhabi was estimated to be 3.4 billion cubic metres. Of this total, 62% was groundwater and used mainly in agriculture, forestry and landscape irrigation. Groundwater accounts for 94% of agriculture water consumption. Abstractions exceed 25 times the average groundwater recharge rate. This is exhausting the aquifers and at current consumption patterns groundwater will be depleted. This is also affecting its quality, as salinity is rapidly increasing. In 2011, 3% of groundwater was fresh, 18% brackish and 80% saline. To fight ground water depletion EAD and the Abu Dhabi Municipality (ADM) are already introducing subsurface irrigation as an alternative to traditional drip irrigation
75% Water Savings
Moistube™ will consume, on average, approximately 25% of the water used by a drip system.
Nil Evaporation
Moistube™ delivers water directly to the feeding roots; eliminating evaporation losses (typically 30% of total water consumption).
Minimal Percolation
When watering sandy soils with traditional irrigation systems approximately 40% of the water is lost by percolation before it can be absorbed by the roots. Moistube's™ capability in adjusting water release, according to the soil moisture content, aids to minimise percolation loses.
Increased Bio-mass Production
Sub-surface, continuous irrigation by Moistube™, can provide approximately 20% larger crops from the same area when compared to traditional irrigation systems while saving up to 75% of total water use.
No Blockages
Mositube's™ nano-sized holes are much smaller than bacteria or sand grains which makes it resistant to commonly occurring drip blockages.
No Pumps/ No Electricity
Moistube™ operates under very low water pressure. Conventional pumps are typically not required saving electricity and reducing maintenance costs.
Set & Forget
Traditional irrigation systems require infrastructure such as pumps, timers and timer valves. Moistube™ eliminates most features by reducing maintenance costs to a minimum.
Efficient Fertiliser Use
Soluble fertilisers can be used with Moistube™ increasing their effectiveness. In traditional irrigation systems, up to 75% of nutrients can be lost via percolation; contaminating groundwater aquifers.
Compatibility
Moistube™ is fully compatible with standard 16mm irrigation systems widely used around the world.
Our Desert Irrigation Projects:
Envirogrower MEA have worked on the following projects in the desert area:
Design, installation and maintenance of a 36Ha site for the International Fund for Houbara Conservation at Barqa Al Suqor in the Abu Dhabi Western Region
An experimental farm project in the Ghayathi farm area in cooperation with the University of Tasmania
Forest irrigation tests in the Abu Dhabi Western Region
Nursery test trials in Abu Dhabi in cooperation with Gulf Dunes Landscaping & Agricultural Services
Who is Envirogrower?
Envirogrower Middle East specialises in low water use sub-surface irrigation products. Our clients range from landscape contractors to local and federal government agencies, fruit and vegetable growers, and property developers.
Consultancy Services:
We specialise in client oriented sustainable solutions. Our team of skilled professionals can develop a solution tailored according to your unique needs.
We developed a revolutionary desert irrigation system. The system's unique features were tested in the Abu Dhabi Western Region. Striving to maximise water savings, our team of skilled professionals have developed water monitoring systems which achieve unmatched water consumption reduction.
Key Clients:
Our key clients include:
International Fund for Houbara Conservation
The Government of the People's Republic of China